BA236 -
Bachelor of Event Management (Hons)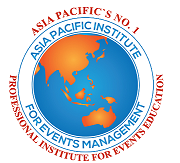 Universiti Teknologi MARA offers a Bachelor's degree in Event Management through the Faculty of Business Management. It is a three-year programme, designed to introduce students to the event management field. The programme aims to develop skills and knowledge related to the management of various kinds of event both in local and international context. Presently no specific undergraduate programme exists in Malaysia for those who wish to become managers in this existing dynamic industry.

The curriculum of this programme is designed to meet the current needs of industry and prepare graduates for a successful career in event management. Some relevant courses encompass that of event management modules, administrative management fundamentals, computer and information technology, communications and third language.

Employment opportunities are available in the public and private sector, and range from event managers, event executives to event coordinators. The degree equips graduates for career [progression to senior levels particularly within this dynamic industry. Graduate also have the opinion to set up their own event management business.

Program Overview

This program covers
Event Conceptualization & Planning
Event Documentation
Event Leadership Development
Event Staging & Production
Event Public Relations & Protocol
Multimedia for event Management
Project Management
Event Risk Management
Legal Issues for Event Professionals
Event Marketing & Promotion
Program Content
Year 1
Semester 1
Co-curriculum I
Third Language I
Falsafah Dan Isu Semasa
Immediate Financial Accounting and Reporting
End User Applications
Business Law
Principles and Practice of Management
Principles and Practice of Marketing
Semester 2
Co-curriculum II
Third Language II
English for Critical Academic Reading
Economics
Financial Management
Introduction to Operation Management
Human Resource Management
Year 2
Semester 3
Co-curriculum III
Third Language III
English for Oral Presentations
Public Relations and Protocol
Event Planning and Conceptualization
Introduction to Meetings, Incentives, Conventions, and Exhibitions (MICE)
Elective 1
Elective 2
Semester 4
Penghayatan Etika dan Peradaban II
Principles of Entrepreneurship
Business Analytics
Event Design and Production
Event Marketing and Promotion
Event Risk Management and Legal Compliance
Elective 3: Choose 1

Digital Workforce
Digital Entrepreneurships
Digital Marketing
Year 3
Semester 5
English Exit Test
Research Methods
Strategic Management
Issues in Event Management
Event Organization
Event Resource Management
Elective 4
Semester 6
Career Prospect
Executive and middle level management positions in industries related to
Hospitality & Event Management
Sports & Tourism
Charity & Volunteerism
Entertainment
Research & Consultancy
Program Availability
This program is offered at UiTM Selangor.
Course Coordinator:
MOHD ZULKIFLI ABDULLAH (DR.)
Department of International Business and Management Studies
m_zulkifli@uitm.edu.my
+603-3258 7015